Intimate Isolation: A Photographic Journey Through Nature (Hardcover)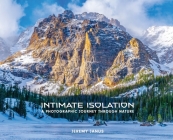 $34.95
Currently not available through our publishers/warehouses. Please check back or email orders@wellingtonsquarebooks.com..
Description
---
Intimate Isolation: A Photographic Journey Through Nature is a collection of the best photos and their stories from the first 5 years of photography from award-winning nature photographer Jeremy Janus. Jeremy adventured and traveled all over the globe to capture intimate moments in nature and share them with the world. From a photography portfolio of over 65,000 photos, Jeremy dwindled down his 50 favorite shots to create this colorful and vibrant nature photography book. These photos span the seasons of winter, spring, summer, and fall. Some of the locations featured in this book include his home state of Colorado, Utah, California, Hawaii, Canada, and New Zealand. Jeremy also shares his dynamic range of photography and love for nature by utilizing his shots of lightning, mountains, sunsets, waterfalls, forests, and wildlife.
Jeremy suffered through years of depression, anxiety, and suicide contemplation during his latter adolescence. He found his white space and place of healing through hiking in nature, and many years later, through painting. He was able to combine nature and art in 2016 when he picked up his first camera. This book is a result of many years spent in the darkness that he is now able to use as a light for the world around him.