Ninth House (Alex Stern #1) (CD-Audio)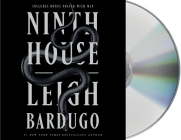 $44.99
Currently not available through our publishers/warehouses. Please check back.
Other Books in Series
This is book number 1 in the Alex Stern series.
Staff Reviews
---
Leigh Bardugo's adult fantasy debut launches us into the twisted tales of the Ivy League Elite in an impossible to put down, completely gripping story that unravels the secrets that lie just beneath the surface of the wealthy and privileged citizens of New Haven. 
Meet Galaxy, Alex, Stern, who at just twenty years old has lived a million lifetimes. From dropping out of high school at a young age, to a life of drugs and minimum wage jobs to pay the bills, she is also the sole survivor of a brutal massacre. As if that wasn't enough for the young girl, she has also gone her whole life being able to see ghosts. Convinced that her life has gone in the completely wrong direction, Alex is faced with little choice, until she is greeted at her hospital bed by the Dean of Yale who is offering her a chance to turn it all around. At Yale, Alex is thrust into the hidden world of Yale's secret societies, acting as a member of the Lethe House, an advisory board of sorts charged with ensuring each of the Eight Houses of the Veil acts within their means. However, as Alex's time at Yale progresses, she learns that the lives of those in Lethe and the Eight Houses are further and further away from what she was expecting- and something sinister is lurking just beneath the surface. 
I truly cannot speak highly enough of the world-building done by Bardugo in this novel. The exposition is so subtle, yet so clear, it almost feels as if the story is a work of fiction, not a work of fantasy. As if we truly live alongside ghosts and college students performing magical rituals to predict the rise and fall of the stock market. Furthermore, each character is so well developed and so multidimensional that I got as much from the story from Alex as I did from her companions Dawes and Darlington, even the ghosts that only Alex herself can see. The Ninth House kept me hooked from cover to cover and I hope it does the same for you. Until then, I'll be counting down the days until the second installment is released (hopefully) in 2022.
— Olivia White
October 2019 Indie Next List
---
"Queen Leigh's first foray into adult fantasy is a sensational success! One of the best fantasy books I've read in a long while, Ninth House contains Yale secret societies, ghosts, magic, morally gray characters, and murder. Bardugo balances dual timelines with intricate precision, and the history and world-building of her fantastical New Haven is superb. I couldn't put this book down; I had to know what was going to happen next. I savored every moment reading this novel, and I am jealous of readers who get to experience it for the first time!"
— Isabella Ogbolumani, Page 1 Books, Evanston, IL
Winter 2020 Reading Group Indie Next List
---
"This stunning book in the tradition of The Secret History and The Magicians is about a girl who can see ghosts, and who gets a full scholarship to Yale in the aftermath of a horrible tragedy. Bardugo's first adult entry has a cast of characters you won't soon forget, and great social commentary about class. Great for fans of her other work who have aged up, or fans of gritty adult fantasy."
— Vickie Roberts, Andover Bookstore, Andover, MA
Description
---
A LOCUS AWARD FINLIST!

"Bardugo's latest is a must-listen, introducing a haunting, Yale-based occult world populated with gloriously complicated characters... A win-win-win, honestly." -- Paste, best audiobooks of 2019

From #1 New York Times bestselling author Leigh Bardugo comes a mesmerizing tale of power, privilege, and dark magic set among the Ivy League elite.

This program includes a bonus conversation with the author.

Galaxy "Alex" Stern is the most unlikely member of Yale's freshman class. Raised in the Los Angeles hinterlands by a hippie mom, Alex dropped out of school early and into a world of shady drug-dealer boyfriends, dead-end jobs, and much, much worse. In fact, by age twenty, she is the sole survivor of a horrific, unsolved multiple homicide. Some might say she's thrown her life away. But at her hospital bed, Alex is offered a second chance: to attend one of the world's most prestigious universities on a full ride. What's the catch, and why her?

Still searching for answers, Alex arrives in New Haven tasked by her mysterious benefactors with monitoring the activities of Yale's secret societies. Their eight windowless "tombs" are the well-known haunts of the rich and powerful, from high-ranking politicos to Wall Street's biggest players. But their occult activities are more sinister and more extraordinary than any paranoid imagination might conceive. They tamper with forbidden magic. They raise the dead. And, sometimes, they prey on the living.

Ninth House is the long-awaited adult debut by the beloved author of Shadow and Bone and Six of Crows. Leigh Bardugo will take her place alongside Lev Grossman and Deborah Harkness as one of the finest practitioners of literary fantasy writing today.

A Macmillan Audio production from Flatiron Books

"Ninth House is the best fantasy novel I've read in years, because it's about real people. Bardugo's imaginative reach is brilliant, and this story—full of shocks and twists—is impossible to put down." - Stephen King

"Ninth House is one of the best fantasy novels I've read in years. This book is brilliant, funny, raw and utterly magnificent — it's a portal to a world you'll never want to leave." - Lev Grossman, New York Timesbestselling author of The Magicians

"In this mesmerizing novel, Leigh Bardugo introduces us to Alex, a high-school dropout who gets a free ride to Yale because of a unique talent. Bardugo's New Haven is plausible and frightening, and I was one rapt reader." - Charlaine Harris, bestselling author of the True Blood series
About the Author
---
Leigh Bardugo is a #1 New York Times bestselling author and the creator of the Grishaverse (now a Netflix original series) which spans the Shadow and Bone trilogy, the Six of Crows duology, The Language of Thorns, and King of Scars—with more to come. Her other works include Wonder Woman: Warbringer and Ninth House (Goodreads Choice Winner for Best Fantasy 2019), which is being developed for television by Amazon Studios. She lives in Los Angeles.
Praise For…
---
"Ninth House is the best fantasy novel I've read in years, because it's about real people. Bardugo's imaginative reach is brilliant, and this story—full of shocks and twists—is impossible to put down." - Stephen King

"Ninth House is one of the best fantasy novels I've read in years. This book is brilliant, funny, raw and utterly magnificent — it's a portal to a world you'll never want to leave." - Lev Grossman, New York Times bestselling author of The Magicians

"Ninth House is the best thing I've read in a long time. There's so much magic here that you'll begin to feel it seeping into the room around you as you read, and characters so real you 'll practically hear their voices in your ear. Leigh Bardugo has written a book so delicious, so twisty, and so immersive I wouldn't blame you for taking the day off to finish it." - Kelly Link, author of Magic for Beginners and Get in Trouble.

"Leigh Bardugo's Ninth House rocked my world. I could not get enough of sinewy, ghost-haunted Alex Stern, a heroine for the ages. With a bruised heart and bleeding knuckles, she risks death and damnation — again and again — for the people she cares about. I was cheering her on the whole way: from the first brilliant sentence of this book to the last. More, please, Ms. Bardugo." - Joe Hill, New York Times bestselling author of NOS4A2

"In this mesmerizing novel, Leigh Bardugo introduces us to Alex, a high-school dropout who gets a free ride to Yale because of a unique talent. Bardugo's New Haven is plausible and frightening, and I was one rapt reader." - Charlaine Harris, bestselling author of the True Blood series

"With an aura of both enchantment and authenticity, Bardugo's compulsively readable novel leaves a portal ajar for equally dazzling sequels." - Kirkus Reviews (starred review)

"Atmospheric...Part mystery, part story of a young woman finding purpose in a dark world." - Booklist (starred review)

"Genuinely terrific....The worldbuilding is rock solid, the plot is propulsive, and readers will be clamoring for a sequel as soon as they read the last page." - Library Journal (starred review)

"Excellent....Bardugo gives [her protagonist] a thoroughly engaging mix of rough edge, courage and cynicism." - Publishers Weekly (starred review)